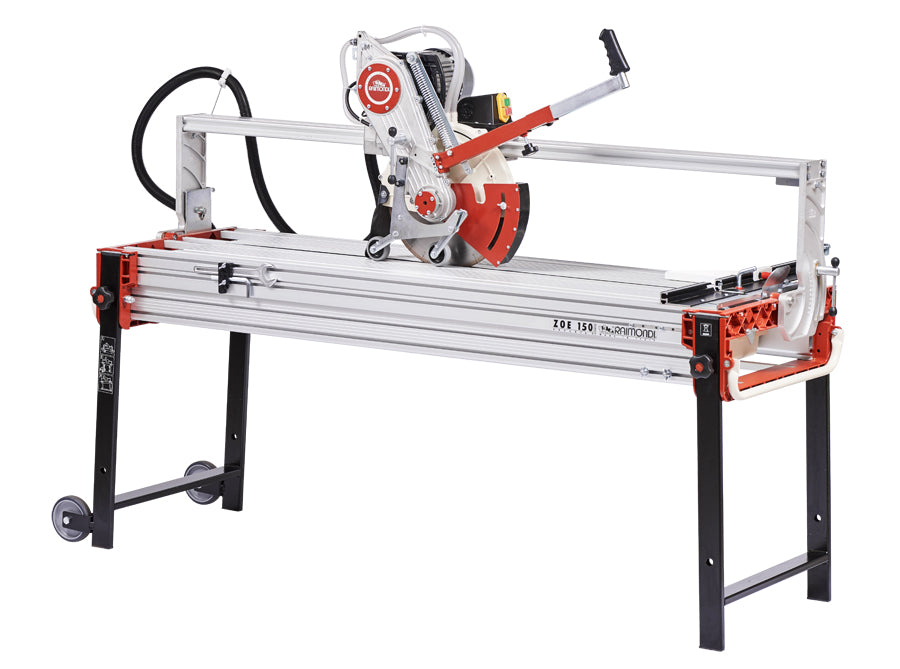 Raimondi Zoe 150 Bridge Saw
Heavy duty in every way, the Italian made Raimondi Zoe 150 bridge saw is available to purchase from Pure Clean Rental Solutions. The Zoe 150 is in a league of its own when it comes to cutting paving. 
Suitable for porcelain, granite, marble, sandstone, bricks and much more. When purchased the Zoe 150 comes complete with a Raimondi blade suitable for cutting porcelain. This has a maximum cut length of 155cm and an adjustable cutting depth upto 110mm. It is also able to cut angles from 0
° to 45° due its tilting motor assembly.
The Zoe 150 is a premium bridge saw and is made from cast and extruded aluminium. The saw has a powerful 3HP motor and is powered by a 32A 110V supply, which makes it safe to use on all sites. Due to the high powered motor this saw needs a continuous run 32A 110V transformer to run alongside it. A heavy duty water pump supplies 2 jet nozzles to keep the disc as cool as possible and keep the cutting dust free. The dirty water is collected in a large 38 litre tank which is removable for easy cleaning. 
We take pride in only supplying quality products and the Zoe 150 certainly fits into the quality category. It is not the cheapest saw on the market but it is one of the best! Strong, sturdy and plenty of cutting power. It is a perfect fit for any professionals looking to get the best saw on the market. This bridge saw can be seen on display in our shop should you wish to come and see it in person. 
Any Questions? Why not use the live chat below.
Price shown is ex VAT which will be added at the Checkout.

Please note the saw in our shop has additional extras. 

The Zoe 150 specification sheet can be found HERE.