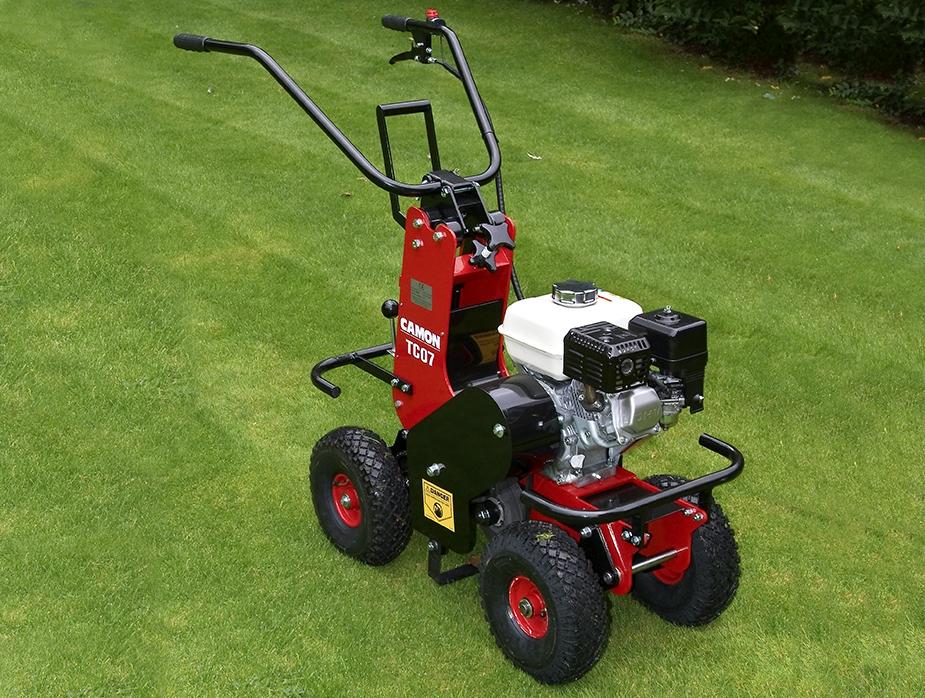 Turf Cutter - Camon TC07 Turf Cutter
The Machine is ideal for removing turf from a large area. Ideal for replacing low quality lawn or preparing for artificial turf. The turf cutter is simple and easy to use. Start the engine and engage the clutch and cutting blade to start cutting turf. The turf cutter is self driven so no need to struggle pushing it along.  The cutting depth is adjusted easily from 10mm to 35mm.  


Available for Day, Week or Weekend hire. Longer durations are available on request. Price excludes VAT which is added at the checkout. Machine will be fully fuelled on delivery. It is the hirers responsibility to clean and refuel the machine before collection takes place.  PETROL FUEL ONLY
If you require a 5L can of petrol this can be purchased HERE.

Additional Charges may apply if :

Machine is damaged on return
Any additional hire takes place
Excessive dirt on return
We have to refuel the machine
To hire our plant we require two forms of identification which must show current residential address (bank statement, utility bill, car insurance) and a photographic identification (driving licence, passport). These must be emailed to us before hire takes place : sales@pcrsol.co.uk. The hirer must be on site when delivery takes place to complete our hiring out agreement a copy of which can be found HERE. This also lists all of our terms & conditions that apply when hiring plant from us. The hirer remains responsible and liable for any loss, damage or theft of our plant until they have been returned or collected by us. 

Local delivery will be made our own vehicles. If you have access issues please get in touch with our office to find the best solution for you. Our local delivery areas can be found HERE. For out of area deliveries please contact the office. 

Our free delivery covers all of Manchester, Stockport, Oldham, Bolton, Wigan, Warrington, Wilmslow, Poynton, Macclesfield, Congleton, Buxton, Glossop and the high peak! Full UK delivery is also available please contact the office on : 0161 430 5390 or email : sales@pcrsol.co.uk for more information. Price shown is ex VAT which will be added at the Checkout.
Specifications -  
Engine - Honda GX160 Petrol 

 

Fuel Tank Capacity - 3.1L

 

Fuel Consumption - 1.4L per Hour 

 

Cutting width - 300mm

 

cutting depth - 10mm - 35mm

 

Length - 1700mm

 

Width - 670mm 

 

Height - 970mm